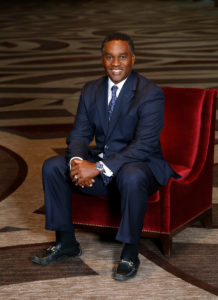 Darrell S. Freeman Sr. is the executive managing director of Zycron, a division of BG Staffing, Inc. Zycron is an information technology services firm he founded in 1991 in Nashville, Tenn., and sold for $20 million in 2017.
Darrell has helped take two companies public on the Nasdaq  and the New York Stock Exchange. As co-founder and co-organizer of Tennessee-based Reliant Bank (Commerce Union Bank (NASDAQ)), Freeman serves on the Board of Directors. He is also the Lead Director for American Addiction Centers (NYSE).
Darrell's other entrepreneurial efforts include: co-founder and chairman of Pinnacle Construction Partners which provides a full range of preconstruction planning and construction management services for the public and private sector; chairman of the board of S3 Recycling Solutions which is an information technology recycling firm; and owner of DC Partners, a real-estate development firm.
Darrell has a long-standing commitment to the community. He served two terms as chairman of the Nashville Area Chamber of Commerce and as former chairman of the 100 Black Men of Middle Tennessee, he led the organization to achieve chapter of the year in 2005. Other organizations for which Freeman serves or has served on the board are: S3 Recycling Solutions, Tennessee Board of Regents, Middle Tennessee State University Board of Trustees, Nashville Health Care Council, Nashville Area Chamber of Commerce, Centennial Medical Center, Stone Crest Medical Center, Nashville Community Foundation, the Nashville Downtown Rotary Club, the Federal Reserve Advisory Board, the African American Museum of Music Art and Culture, and the Nashville Broadband Task Force.
Freeman's favorite pastimes include spending time with his wife Gloria and their four children Ebony, Kenya, Darrell Jr. and Nathan. He is an avid runner, having completed numerous marathons and six Ironman triathlons. He is an instrument rated pilot with more than 2,000 hours. And he is a pilot for Angel Flight, which is an organization that arranges free air transportation for charitable and medical needs. Golf and history are also two of his favorite hobbies, and he is a member of Omega Psi Phi Fraternity, Inc.
Freeman is a native of Chattanooga, Tenn. He holds a bachelor's and a master's degree from Middle Tennessee State University.